(FOR IMMEDIATE RELEASE)
TURNER BMW COMES HOME TO LIME ROCK PARK

Amesbury, MA. — July 18th, 2018 — Turner Motorsport is set to return to its home track of Lime Rock Park in the wake of recent success at Watkins Glen for round seven of the 2018 WeatherTech SportsCar Championship.
The No. 96 BMW of Turner will return to racing action on the 1.51-mile 7-turn circuit in western Connecticut following the brief break since the start of the north east swing that has included three races in just over three weeks.
Bill Auberlen, who has appeared in the Turner BMW for three races thus far this season will share driving duties with Robby Foley, who made his debut with the Turner team in June for the Chevrolet Grand Prix on the streets of Detroit.
The duo teamed up together most recently at Canadian Tire Motorsport Park with a strong performance behind the wheel of the No. 96 LIQUI MOLY branded BMW.
"It's great that I am able to team up with Bill (Auberlen) again after such a strong effort up at Canadian Tire Motorsport Park," commented Foley. "We had a solid car last race so I am really looking forward to continue to improve our platform and performance this weekend and hopefully walk away with some measurable results."
Foley added, "Growing up in NJ, Lime Rock was the place I fell in love with racing. I can remember visiting Lime Rock as a kid with my dad, looking up to all the teams and drivers and being enamored with the whole atmosphere and now to reach that level myself is a truly special feeling. Coincidentally this race falls on my birthday so looking forward to a great weekend doing what I love."
Turner success at Lime Rock has been consistent over the past several years with recent class wins in '06, '09, '10, '15 and '17 as well as a second-place podium in 2011 and third place GT podium in 2012. This weekend's race will mark the Turner team's 382nd professional race.
In 2015, Michael Marsal and Dane Cameron captured a memorable GTD class victory in their BMW Z4. The win came only 24 hours after a crash in practice forced the team to work throughout the night to get the car race ready.
In one of Auberlen's last appearances in a blue and yellow Turner BMW at Lime Rock Park was in 2012 where he and his co-driver Paul Dalla Lana finished third in the Grand-AM Rolex GT Championship in the E92 M3.
"I am ready for this weekend at Lime Rock Park and looking forward to returning with Turner Motorsport." Bill Auberlen commented. "I always enjoy racing here because of how close things can be with such a short lap, especially in a GTD field that is pretty well matched up."
"Lime Rock is always one of those races we look forward to as a team," Will Turner said. "Not only do we have a lot of history and success here, but the atmosphere and fans really make it a fun weekend for everyone. Looking to continue our legacy and have a good race for all our hometown friends, family and fans."
In addition to on-track action at Lime Rock Park this weekend, Turner Motorsport will be hosting the Austin Hatcher Foundation Charity Auction at the Team transporter inside Big Bend at 12:30pm, Saturday July 21st. The Auction will feature various Turner Motorsport race memorabilia and hard to find gear like used body panels, driver suits, LIQUI MOLY product and more with all proceeds donated to benefit the foundation for pediatric cancer.
To buy tickets to the race please visit limerock.com today. Ticket packages are available for both Friday and Saturday with special parking packages included.
Turner Motorsport Taco T-shirts and other team apparel will be for sale at the track in the vendor area. Stop by to check out the latest blue and yellow team swag available.
Practice for the IMSA WeatherTech Northeast Grand Prix begins at 12:05pm ET on Friday July 20th, with qualifying at 9:35am on July 21st. The Northeast Grand Prix will be televised nationwide on Fox Sports 1 at 4:00pm ET. Check your local cable listings for tune in details.
2018 Partners: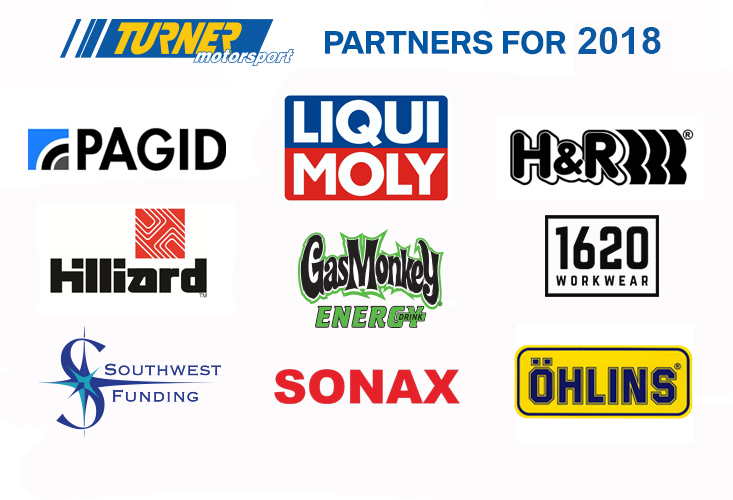 Stay connected. Follow us on Facebook & Twitter to get up to the minute updates from the race track.

About Turner Motorsport

Turner Motorsport is the leading BMW tuner in North America, bringing technology and expertise from the racetrack to the street for over two decades. Since 1993 the Turner Motorsport Team has competed in over 380 professional races, winning seven professional racing championships in four different series since 2003. The most recent being the 2014 Team Championship in the GTD-class of the TUDOR United SportsCar Championship. Their success is passed into every component that Turner Motorsport designs and sells through their comprehensive website and performance showroom. Our Race Team, R&D Engineers and Sales Team work together, ensuring practical knowledge and state-of-the-art engineering flow in both directions. Few companies in North America can claim such a close relationship to what they sell and what they race.

2018 Weathertech SportsCar Championship Schedule
July 20-21 – Northeast Grand Prix GTLM/GTD
Lime Rock Park – Lakeville, Connecticut
Aug. 3-5 – Continental Tire Road Race Showcase P/GTLM/GTD
Road America – Elkhart Lake, Wisconsin
Aug. 17-19 – Michelin GT Challenge GTLM/GTD
VIRginia International Raceway – Danville, Virginia
Sept. 7-9 – Continental Tire Monterey Grand Prix powered by Mazda P/GTLM/GTD
Mazda Raceway Laguna Seca – Monterey, California
Oct. 10-13 – Motul Petit Le Mans P/GTLM/GTD
Road Atlanta – Braselton, Georgia – 10 Hours
Television coverage by

Please click here to check your local listings for both Fox Sports 1 and Fox Sports 2.

---
Links
LIQUI MOLY – A German Lubricant Company and Official lubricant of Turner Motorsport
TurnerMotorsport.com – Parts, Performance & Service Parts for BMWs
TurnerService.com – Service, Performance & Maintenance for BMWs
IHG Rewards Club – The World's Largest Hotel Loyalty Program
H&R Springs – Premium Quality Suspension Components
PAGID – Motorsport and High Performance Brake Products
1620 Workwear – American Made Workwear and Gear
Weathertech SportsCar Championship Homepage

---
Press Inquires please Contact
Jay Baier
Director of Marketing
email: [email protected]
phone: 978-388-7769 ext. 630