Turner Motorsport is the leading source for parts and performance for BMWs. Visit our website at www.TurnerMotorsport.com
(FOR IMMEDIATE RELEASE)
TURNER MOTORSPORT BMW ROLLS WEST IN WHITE, RED AND BLUE LIQUI MOLY LIVERY

Amesbury, MA. — September 4th, 2018 — Turner Motorsport heads West with just two races remaining on the 2018 WeatherTech SportsCar Championship to compete on the 2.238-mile 11-turn road course of Laguna Seca in Salinas, California.
The No. 96 Turner BMW M6 GT3 will revert to the white, red and blue LIQUI MOLY livery debuted in the season opening Rolex 24 at Daytona back in January for the second of two races featuring the German lubricant and additive brand.
Drivers Bill Auberlen and Robby Foley will assume duties following their impressive race leading performance in round nine at Virginia International Raceway two weeks ago.
The duo will look to continue the Turner Motorsport success at Laguna Seca with a top five finish in 2017, fourth place finish in 2016, a win in 2014 and second place finish in 2013.
Auberlen last made an appearance behind the wheel of a blue and yellow BMW at Laguna Seca in 2013 where he recorded fastest race laps in both the GS Continental Tire class as well as the Rolex GT class narrowly missing a podium finish.
"I'm looking forward to another weekend racing with Turner Motorsport especially after having such a strong run in the first half of our race at VIR. The team has been working very hard to continue to squeeze every drop of performance out of the BMW M6 GT3 so I don't see why we won't be competitive at Laguna." said Auberlen.
Robby Foley will return behind the wheel of the Turner BMW for his fifth appearance this season.
"I'm excited for another opportunity to drive the M6 with Turner," said Robby Foley. "Our BMW has been very competitive but we have yet to get it on the podium so maybe with a little bit of luck this weekend we can make it happen."
On track action will begin on Friday, September 7th 2018 with practice followed by GTD qualifying on Saturday September 8th at 3:45pm EST which will be LIVE on IMSA.TV.
The America's Tire 250 will take the green flag on Sunday September 9th at 5:05pm EST and be televised LIVE on Fox Sports 1 from 5:00pm to 8:00pm EST.
Follow Turner social channels to keep up with the action on and off the track throughout the weekend.
2018 Partners: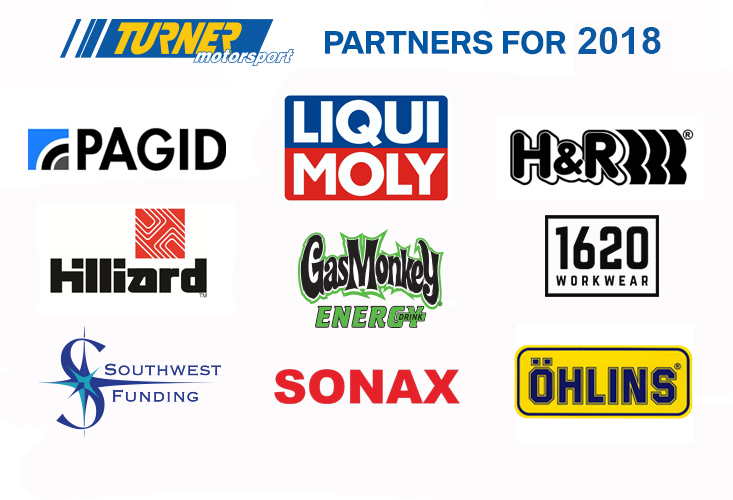 Stay connected. Follow us on Facebook & Twitter to get up to the minute updates from the race track.

About Turner Motorsport

Turner Motorsport is the leading BMW tuner in North America, bringing technology and expertise from the racetrack to the street for over two decades. Since 1993 the Turner Motorsport Team has competed in over 380 professional races, winning seven professional racing championships in four different series since 2003. The most recent being the 2014 Team Championship in the GTD-class of the TUDOR United SportsCar Championship. Their success is passed into every component that Turner Motorsport designs and sells through their comprehensive website and performance showroom. Our Race Team, R&D Engineers and Sales Team work together, ensuring practical knowledge and state-of-the-art engineering flow in both directions. Few companies in North America can claim such a close relationship to what they sell and what they race.

2018 Weathertech SportsCar Championship Schedule
Sept. 7-9 – Continental Tire Monterey Grand Prix powered by Mazda P/GTLM/GTD
Mazda Raceway Laguna Seca – Monterey, California
Oct. 10-13 – Motul Petit Le Mans P/GTLM/GTD
Road Atlanta – Braselton, Georgia – 10 Hours
Television coverage by

Please click here to check your local listings for both Fox Sports 1 and Fox Sports 2.

---
Links
LIQUI MOLY – A German Lubricant Company and Official lubricant of Turner Motorsport
TurnerMotorsport.com – Parts, Performance & Service Parts for BMWs
TurnerService.com – Service, Performance & Maintenance for BMWs
IHG Rewards Club – The World's Largest Hotel Loyalty Program
H&R Springs – Premium Quality Suspension Components
PAGID – Motorsport and High Performance Brake Products
1620 Workwear – American Made Workwear and Gear
Weathertech SportsCar Championship Homepage

---
Press Inquires please Contact
Jay Baier
Director of Marketing
email: [email protected]
phone: 978-388-7769 ext. 630