Trouble viewing this email? Read it online.
Turner Motorsport is the leading source for parts and performance for BMWs. Visit our website at www.TurnerMotorsport.com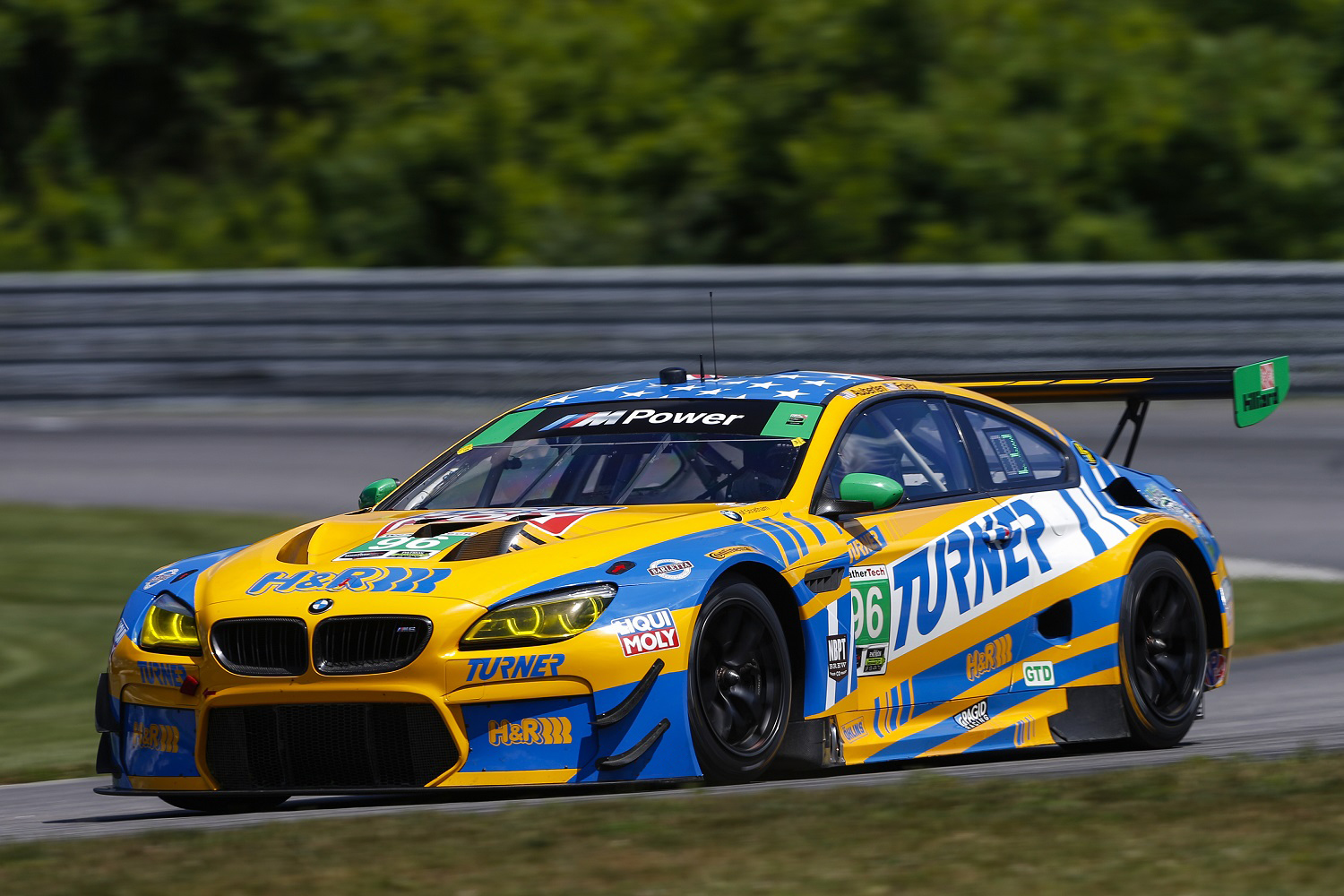 (FOR IMMEDIATE RELEASE)
TURNER DOUBLES UP FOR DAYTONA; TURNER BMWs TO COMPETE IN IMSA GTD and GS CLASSES WITH DRIVER LINEUPS SECURED.

Amesbury, MA. — December 13th, 2018 — With the New Year just a few weeks away, Turner Motorsport prepares for double duty to kick off the start of the 2019 season for the seven-time Championship Winning BMW race team.
Turner BMWs will appear in both the GT- Daytona (GTD) and Grand Sport (GS) classes for the first round of the Weathertech SportsCar Championship and the Michelin Pilot Challenge on the 3.56-mile 12-turn Daytona International Speedway in January.
2019 will mark the team's 21st year competing in professional sportscar racing and their 400th race with BMW, only second to one other team worldwide. This year's Rolex 24 at Daytona will mark the tenth consecutive appearance for the team in the famed 24-hour endurance challenge.
The Liqui Moly liveried number 96 BMW M6 GT3 will return to compete in the GTD class with the familiar white, red and blue paint scheme complete with a very familiar yet impressive driver line-up.
Robby Foley and Dillon Machavern will return behind the wheel of the Turner BMW with BMW Motorsport aces Bill Auberlen and Jens Klingmann for the Rolex 24 at Daytona with Foley and Auberlen carrying on for the full 11-race GTD season.
Machavern is set to join in the North American Endurance Championship races with Foley and Auberlen at Sebring, Watkins Glen and Petit Le Mans.
Both Foley and Machavern appeared in the No. 96 Turner BMW in 2018 with strong performances. Machavern successfully clinched his first GTD class victory at Watkins Glen in the Sahlen's Six Hours. Foley appeared in five races with one strong top-five finish at Road America.
Klingmann will be back in a Turner BMW for the first time since the Rolex 24 at Daytona in 2018. In 2017, Klingmann recorded one impressive win at Road America and three wins with the M6 GT3 in 2016 with Turner including the M6 GT3s inagural win worldwide.
Auberlen looks to return to full time duty with Turner Motorsport for the first time since 2013 with high hopes to chase down the all time record of sportscar wins in North America.
Auberlen has experienced much success in blue and yellow BMWs over the years, most notably a Championship in 2011 as well as several double wins in both the GS and GT class in the same day at Miami Homestead and Circuit of the Americas.
In the Grand Sport class of the Michelin Pilot Challenge, two fresh faces will join Robby Foley behind the wheel of the BMW M4 GT4 in the 4-hour endurance challenge to open the season. Sydney McKee and Bruce McKee will team up with Foley to compete against the strong GS class competition.
Bruce and Sydney McKee are a father, daughter driver pairing with experience in Trophy East and Spec Miata looking to make their IMSA debut after campaigning a Porsche GT4 for several seasons.
"2019 has shaped up to be a solid year for Turner Motorsport," said Will Turner. "We were fortunate enough to put together a solid GTD program with a very strong driver lineup for both the full season and the Rolex 24. We really have a winning combination between our M6 GT3, drivers, sponsors and crew."
"In addition, I am beyond excited to be back in the Michelin Pilot Challenge with the GT4 car at Daytona, this is the first time the blue and yellow will compete in that class since 2014 so it's great to be back, especially with the solid driver lineup we have for the 4 hour endurance race at Daytona," added Will Turner.
This week the Turner BMW M6 GT3 is testing in Daytona on the new Michelin tires to prepare for the Roar coming up on January 4-6th. Both the M6 GT3 and the M4 GT4 will appear at Daytona for the Roar in preparation for the kickoff of the 2019 season in Daytona on January 26-29th.
Stay tuned for more updates as the 2019 racing season approaches. You can follow along for more updates via social media for Turner Motorsport on Facebook, Instagram and Twitter.
Driver Quotes:
Bill Auberlen:
"I am very pleased to race the full 2019 IMSA season with BMW, Turner Motorsport and Rob Foley. There are very few things I have not done in a BMW over the last two decades, but this year there is something that has my focus. I am only three victories away from being the all-time leader in North American sports car victories. Those wins – and the GTD championship – will make for a very good year with my friends at Turner Motorsport."
Robby Foley:
"Really excited to be back with Turner Motorsport for the 2019 season. The stars have aligned to have the opportunity to contest a full season effort with Bill. He's been a huge help putting all this together and helping me develop in the car. I owe a huge thanks to Will, BMW, and the entire team for giving me this chance, I'll certainly be working hard to maximize this amazing opportunity. Daytona is such a special race, to be able to compete two years in a row is an amazing feeling. The team is world class and with this driver line up, I'm excited for the opportunity to fight for a good result."
"What a great opportunity to join my good friends Bruce and Sydnee McKee for their IMSA debut. I've had the pleasure of coaching them the past few seasons in club racing and to see their progression has been a cool experience. We'll do our best and most importantly have fun and try to bring home a good result."
Jens Klingmann:
"After racing full season for Turner Motorsport in '16 and '17 I'm very excited to join the team again.
It's a great pleasure and we have unfinished business talking about the Rolex24 at Daytona.
It's one of the most prestigious races worldwide and our target is to get that watch on Sunday afternoon. The M6 GTD has proven its reliability during the past years and with our driver lineup and the whole Turner team behind us we want to start the 2019 season on a high.
Dillon Machavern:
"I am excited to be back with Turner Motorsport for this year's Rolex 24 at Daytona. The 24 has always been one of those bucket list races for me so being back with a familiar and strong team with an amazing driver line up is pretty amazing. Can't wait to get to Daytona!"
Sydney McKee:
I am grateful and very excited to be able to make my debut along side my dad and our friend and coach, Robby Foley. I can't wait to get behind the wheel of the BMW M4 GT4 after watching the success it had last season, especially with the accomplished BMW team, Turner Motorsport.
Bruce McKee:
"Sydney and I (FaDa Racing) are excited join Robby Foley and Turner Motorsport at Daytona for our first IMSA event. FaDa Racing is the first IMSA father/daughter team that we are aware of and we are delighted to be entering this forum with Turner Motorsports and in a car as fantastic and competitive as the BMW M4 GT4."

Stay connected. Follow us on Facebook & Twitter to get up to the minute updates from the race track.

About Turner Motorsport

Turner Motorsport is the leading BMW tuner in North America, bringing technology and expertise from the racetrack to the street for over two decades. Since 1993 the Turner Motorsport Team has competed in over 380 professional races, winning seven professional racing championships in four different series since 2003. The most recent being the 2014 Team Championship in the GTD-class of the TUDOR United SportsCar Championship. Their success is passed into every component that Turner Motorsport designs and sells through their comprehensive website and performance showroom. Our Race Team, R&D Engineers and Sales Team work together, ensuring practical knowledge and state-of-the-art engineering flow in both directions. Few companies in North America can claim such a close relationship to what they sell and what they race.

2019 Weathertech SportsCar Championship Schedule
Date

Venue

Classes/Duration

TV

Jan. 4-6

Roar Before The Rolex 24 At Daytona
Daytona International Speedway
Daytona Beach, Florida
DPi/LMP2/GTLM/GTD

3-day test

N/A
Jan. 24-27
Rolex 24 At Daytona
Daytona International Speedway
Daytona Beach, Florida
DPi/LMP2/GTLM/GTD

24 hours

NBCSN
March 13-16
Mobil 1 Twelve Hours of Sebring
Sebring International Raceway
Sebring, Florida
DPi/LMP2/GTLM/GTD

12 hours

NBCSN/CNBC
May 3-5
Mid-Ohio Sports Car Course
Lexington, Ohio
DPi/LMP2/GTLM/GTD

2 hours, 40 minutes

NBCSN
May 31-June 1
Chevrolet Detroit Belle Island Grand Prix
Detroit, Michigan*
DPi/LMP2 (GTD Sprint Cup)

100 minutes

NBCSN
June 28-30
Sahlen's Six Hours of The Glen
Watkins Glen, New York
DPi/LMP2/GTLM/GTD

6 hours

NBCSN
July 5-7
Canadian Tire Motorsport Park
Bowmanville, Ontario, Canada
DPi/LMP2/GTLM/GTD

2 hours, 40 minutes

NBC
July 19-20
Northeast Grand Prix
Lakeville, Connecticut
GTLM/GTD

2 hours, 40 minutes

NBCSN
Aug. 2-4
Road America
Elkhart Lake, Wisconsin
DPi/LMP2/GTLM/GTD

2 hours, 40 minutes

NBCSN
Aug. 23-25
VIRginia International Raceway
Danville, Virginia
GTLM/GTD

2 hours, 40 minutes

NBCSN
Sept. 13-15
WeatherTech Raceway Laguna Seca
Monterey, California
DPi/LMP2/GTLM/GTD

2 hours, 40 minutes

NBC
Oct. 10-12
Petit Le Mans
Braselton, Georgia
DPi/LMP2/GTLM/GTD

10 hours

NBC/NBCSN
---
Links
LIQUI MOLY – A German Lubricant Company and Official lubricant of Turner Motorsport
TurnerMotorsport.com – Parts, Performance & Service Parts for BMWs
TurnerService.com – Service, Performance & Maintenance for BMWs
IHG Rewards Club – The World's Largest Hotel Loyalty Program
H&R Springs – Premium Quality Suspension Components
PAGID – Motorsport and High Performance Brake Products
1620 Workwear – American Made Workwear and Gear
Weathertech SportsCar Championship Homepage

---
Press Inquires please Contact
Jay Baier
Director of Marketing
email: [email protected]
phone: 978-388-7769 ext. 630