Trouble viewing this email? Read it online.
Turner Motorsport is the leading source for parts and performance for BMWs. Visit our website at www.TurnerMotorsport.com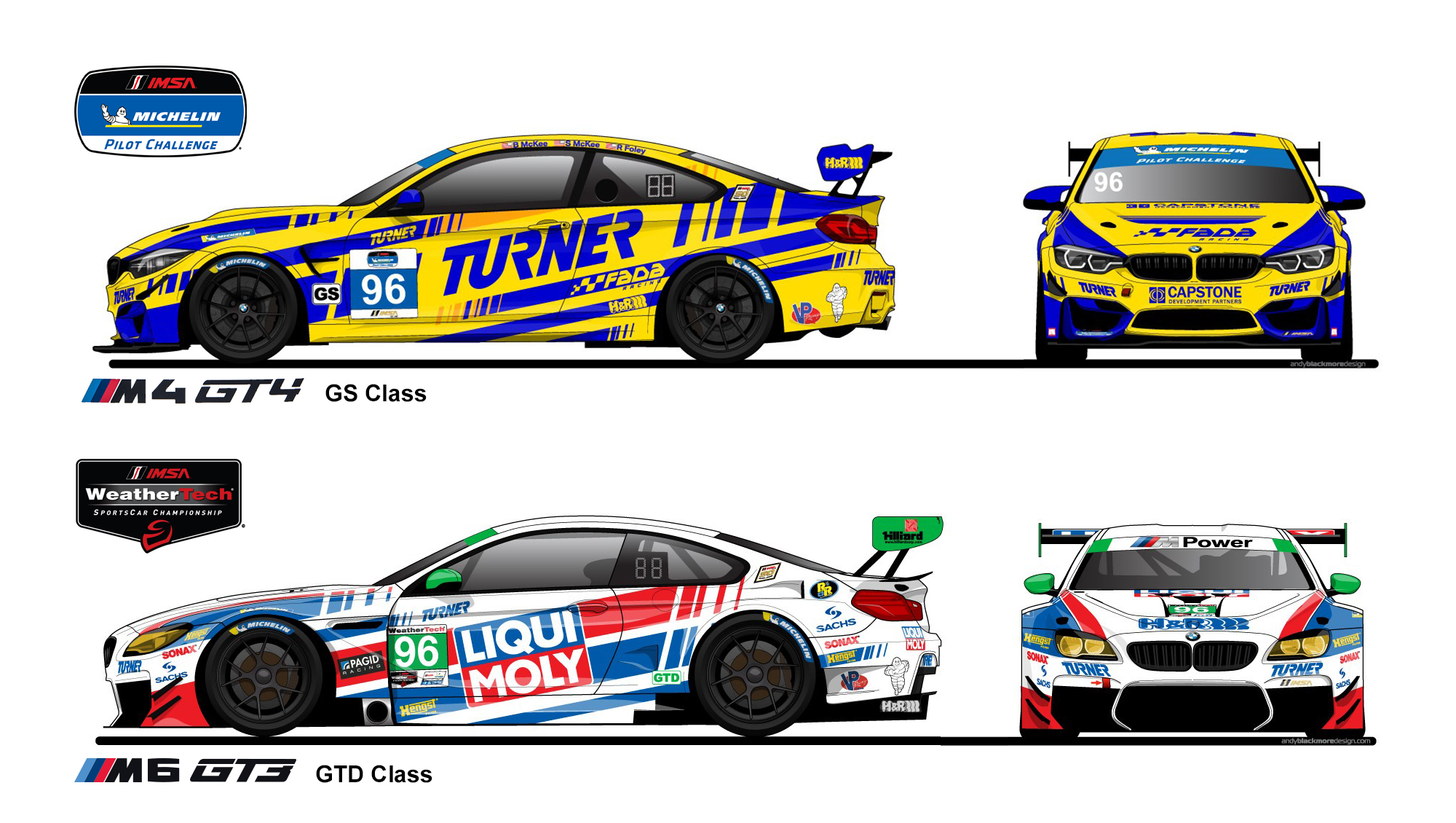 (FOR IMMEDIATE RELEASE)
TURNER HEADS TO ROAR BEFORE THE 24 AT DAYTONA WITH EXCITING NEW 2019 PARTNERSHIPS

Amesbury, MA. — January 2nd, 2019 — Turner Motorsport celebrates the New Year and 21st season of racing with a secured super-star driver line up, a strong BMW M6 GT3 racecar, season long plans in the WeatherTech SportsCar Championship and exciting race partnerships for the 2019 season.
In addition to the return of Liqui Moly Lubricants, H&R Springs, Hilliard Corp, Pagid Brakes and Sonax Car Care, the Turner Motorsport team has partnered up with two more German companies in the OE and aftermarket space, Hengst Filters and Sachs Performance.
Hengst Filter is an automotive company that specializes in filter systems for oil, fuel, air and cabin air filtration. They produce high quality OE filters found in many European and Germany vehicles including the BMW M6 GT3 and M4 GT4.
Sachs Performance is a German manufacturer of automotive parts specializing in powertrain and suspension components for both auto manufacturers as original equipment as well as the aftermarket performance markets. Sachs products can be found in everyday street driven cars as well as in Turner BMW M6 GT3.
"We are looking forward to a strong 2019 season with new and existing sponsors on board," said Jay Baier, Director of Marketing for Turner. "Last year (and this year) we were able to partner with Liqui Moly who is a dream sponsor for our team. That relationship has helped facilitate two more very strong partnerships with German, performance-oriented companies that we can both race with and sell."
Jay Baier added, "With Hengst and Sachs on board, this completes a long list of German companies partnered with our BMW race team and ecommerce parts company. It's great to use and sell such high quality products in both our race cars and in our catalog. This dynamic has proven to work well for everyone involved."
Since 1998, The Turner Race Team has successfully partnered with brands like H&R Springs and Liqui Moly who produce the highest quality products used on the race cars and sold on the website to BMW owners worldwide. turnerMotorsport.com retails 100,000s of replacement and performance parts for BMWs.
The latest evolution of the Turner Motorsport and Liqui Moly liveries on the BMW M6 GT3 will debut at the Rolex 24 at Daytona later this month on January 26th and 27th.
Drivers Bill Auberlen, Robby Foley, Jens Klingmann and Dillon Machavern will all get behind the wheel of the No. 96 GTD class M6 GT3 for the Roar before the 24 this coming weekend to in preparation for the kickoff of the season.
Foley will also appear in the Michelin Pilot Challenge GS class in the BMW M4 GT4 with Sydney and Bruce McKee for both the Roar and the four-hour BMW Endurance Challenge at Daytona.
"It's amazing that we are already headed to the Roar at Daytona." Said Will Turner. "It's been a super quick offseason with a lot of good things coming together including these new partnerships for 2019. We would not be doing what we love without our long time partners like H&R who have stood by us since day one."
Will Turner added, "I am also very happy to have Liqui Moly back on board as well as our others like Pagid, Hilliard and Sonax. We are very fortunate to have such strong relationships with all these premier automotive companies to use in our racecars and sell on the turnermotorsport.com website."
The Turner Motorsport BMW M4 GT4 and M6 GT3 will be on track this week in Daytona for the Roar Before the 24 to prepare for the kickoff of the IMSA WeatherTech SportsCar Championship and Michelin Pilot Challenge.
Stay tuned for more updates as the team prepares to start the 2019 season. Follow us on Facebook, Twitter and Instagram.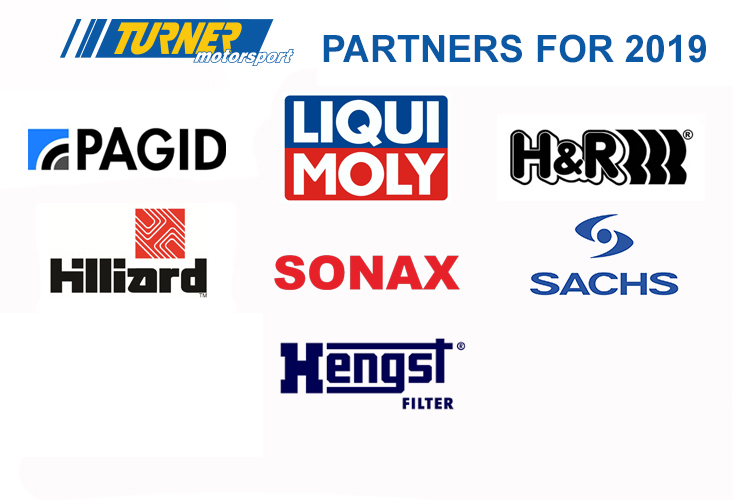 Stay connected. Follow us on Facebook & Twitter to get up to the minute updates from the race track.

About Turner Motorsport

Turner Motorsport is the leading BMW tuner in North America, bringing technology and expertise from the racetrack to the street for over two decades. Since 1993 the Turner Motorsport Team has competed in over 380 professional races, winning seven professional racing championships in four different series since 2003. The most recent being the 2014 Team Championship in the GTD-class of the TUDOR United SportsCar Championship. Their success is passed into every component that Turner Motorsport designs and sells through their comprehensive website and performance showroom. Our Race Team, R&D Engineers and Sales Team work together, ensuring practical knowledge and state-of-the-art engineering flow in both directions. Few companies in North America can claim such a close relationship to what they sell and what they race.

2019 Weathertech SportsCar Championship Schedule
Date

Venue

Classes/Duration

TV

Jan. 4-6

Roar Before The Rolex 24 At Daytona
Daytona International Speedway
Daytona Beach, Florida
DPi/LMP2/GTLM/GTD

3-day test

N/A
Jan. 24-27
Rolex 24 At Daytona
Daytona International Speedway
Daytona Beach, Florida
DPi/LMP2/GTLM/GTD

24 hours

NBCSN
March 13-16
Mobil 1 Twelve Hours of Sebring
Sebring International Raceway
Sebring, Florida
DPi/LMP2/GTLM/GTD

12 hours

NBCSN/CNBC
May 3-5
Mid-Ohio Sports Car Course
Lexington, Ohio
DPi/LMP2/GTLM/GTD

2 hours, 40 minutes

NBCSN
May 31-June 1
Chevrolet Detroit Belle Island Grand Prix
Detroit, Michigan*
DPi/LMP2 (GTD Sprint Cup)

100 minutes

NBCSN
June 28-30
Sahlen's Six Hours of The Glen
Watkins Glen, New York
DPi/LMP2/GTLM/GTD

6 hours

NBCSN
July 5-7
Canadian Tire Motorsport Park
Bowmanville, Ontario, Canada
DPi/LMP2/GTLM/GTD

2 hours, 40 minutes

NBC
July 19-20
Northeast Grand Prix
Lakeville, Connecticut
GTLM/GTD

2 hours, 40 minutes

NBCSN
Aug. 2-4
Road America
Elkhart Lake, Wisconsin
DPi/LMP2/GTLM/GTD

2 hours, 40 minutes

NBCSN
Aug. 23-25
VIRginia International Raceway
Danville, Virginia
GTLM/GTD

2 hours, 40 minutes

NBCSN
Sept. 13-15
WeatherTech Raceway Laguna Seca
Monterey, California
DPi/LMP2/GTLM/GTD

2 hours, 40 minutes

NBC
Oct. 10-12
Petit Le Mans
Braselton, Georgia
DPi/LMP2/GTLM/GTD

10 hours

NBC/NBCSN
---
Links
LIQUI MOLY – A German Lubricant Company and Official lubricant of Turner Motorsport
TurnerMotorsport.com – Parts, Performance & Service Parts for BMWs
TurnerService.com – Service, Performance & Maintenance for BMWs
Sonax – German Car Care Solutions
H&R Springs – Premium Quality Suspension Components
Hengst Filters – Premium Quality Filtration Systems
Sachs Performance – Highest Quality Drivetrain and Suspension Components
PAGID – Motorsport and High Performance Brake Products
1620 Workwear – American Made Workwear and Gear
Weathertech SportsCar Championship Homepage

---
Press Inquires please Contact
Jay Baier
Director of Marketing
email: [email protected]
phone: 978-388-7769 ext. 630