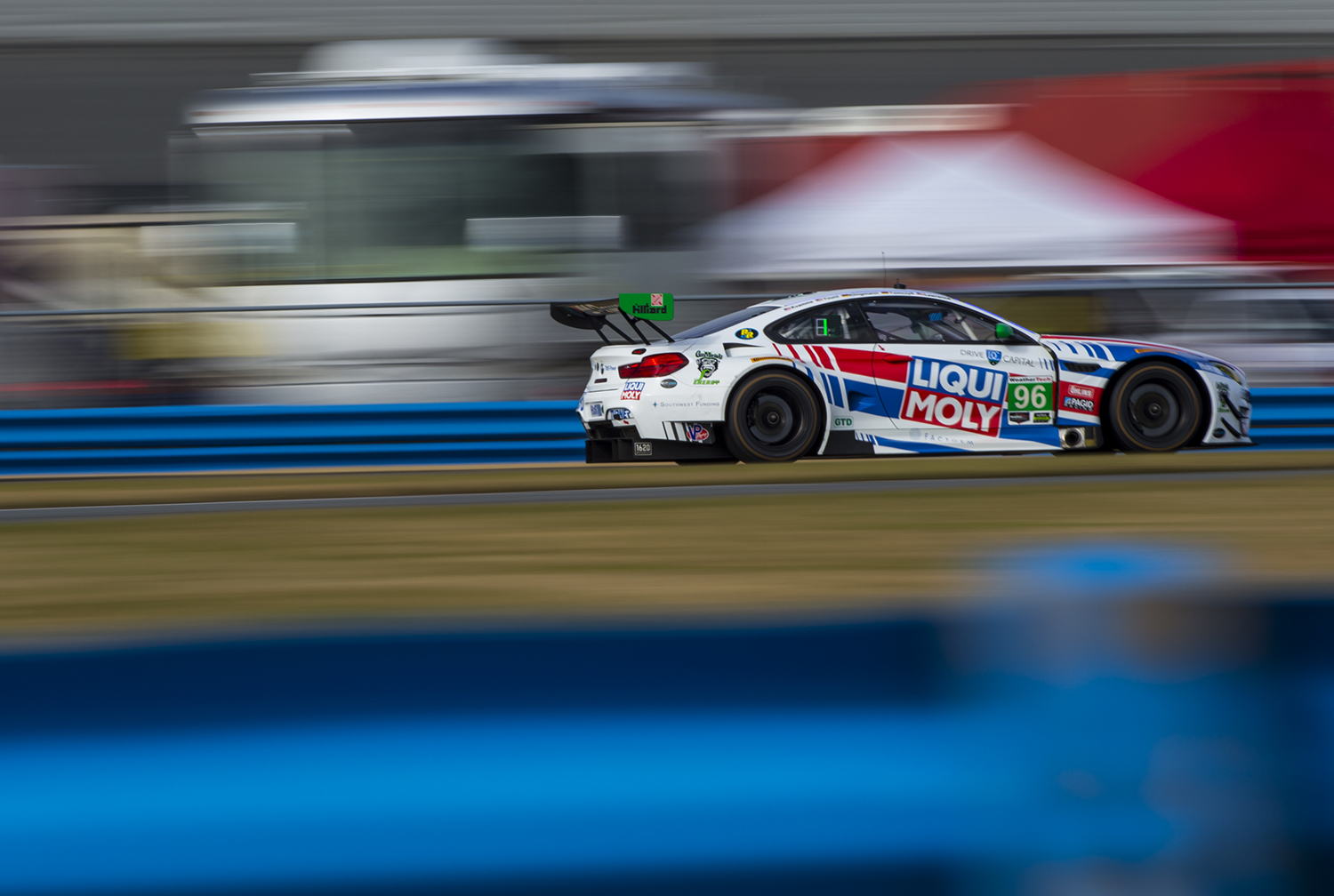 (FOR IMMEDIATE RELEASE)
TURNER MOTORSPORT POISED FOR 2019 KICK OFF AT DAYTONA. FLAG TO FLAG TV COVERAGE ALL WEEKEND LONG.

Amesbury, MA. — January 22nd, 2019 — With less than one week to go, the countdown to the kick off of the 2019 WeatherTech SportsCar Championship and Michelin Pilot Challenge season has gone from weeks to just days away, set to make a big debut on NBC Sports Network.
The poised team of Turner Motorsport is geared up with drivers, crew and sponsors focused on the 57th running of the Rolex 24 at Daytona with the return of the white, red and blue LIQUI Moly No. 96 BMW M6 GT3.
Similar to past years, the seven-time Championship winning BMW team's GTD class driver lineup includes some familiar faces as well as some of the best BMW works drivers in the world. All four drivers are very familiar with the Turner team as well as the BMW M6 GT3 which will enter it's fourth year of competition.
Veterans Bill Auberlen and Jens Klingmann will be joined by Dillon Machavern and Robby Foley to round out a very strong and experienced driver team ready to do battle against the 22 other GTD entries for 24 hours on the 3.56-mile 12-turn road course at Daytona International Speedway.
Klingmann returns for his fourth straight year with Turner at Daytona while Auberlen returns for the first appearance with Turner since 2013 after more than a decade running with the team. Both Machavern and Foley are set to make their first Rolex 24 run with the Turner team after successful appearances during the 2018 regular season.
In addition to the super-star driver lineup, the Turner Motorsport team welcomes their rock-solid team of new and returning partners for 2019 including H&R Springs, LIQUI Moly, Hilliard, Pagid, Sachs, Hengst, Sonax, Sparco and Ohlins.
Turner Motorsport will be racing back to back beginning on Friday with the Michelin Pilot Challenge GS class BMW M4 GT4 driven by the history making father-daughter combo of Bruce and Sydney McKee teamed up with Robby Foley for the 4-hour BMW Endurance Challenge. The Turner trio will look to compete against the record breaking 35-car GS field.
The on-track action will begin on Thursday January 24th with practice for both the GS class as well as the GTD class. Stay tuned and visit IMSA.com for all the up to date timing and scoring as well as live feeds. Turner Motorsport social media will also be following all the action via Facebook, Twitter and Instagram.
The BMW Endurance Challenge of the Michelin Pilot Challenge is scheduled to take the green flag on Friday at 12:05pm ET and will be televised on NBC Sports Network on Wednesday February 6th at 1:00pm.
The Rolex 24 at Daytona will be covered LIVE on television from flag to flag by NBC Sports Network beginning at 2pm ET on Saturday January 26th. You can also visit IMSA.com for driver onboard cameras and live timing and scoring throughout the race.
Comments:
Will Turner
"Our team is poised for a strong start to 2019 in both the GTD and GS races, we are excited to be back in both classes. This will be our tenth running of the Rolex 24, in that time, the race has changed a lot. What was once an endurance race that was won by the cars that proved to be most reliable… has turned into a long sprint race because today's GTD cars are super reliable. Ultimately the race will be most likely be won by the car that has the best balance of performance package for Daytona. Daytona is a track where the cars are at full throttle for more than ¾ of the lap and the straight away (oval) is so long that lap times are determined mostly by acceleration and top speed."
Bill Auberlen
"I cannot tell you how great it is to be back with this team for such a huge event. This is Turner Motorsport's tenth shot at the Rolex 24 at Daytona so I think its about time we take that checkered flag with the lead. I want to thank BMW for allowing me this opportunity to race the Turner BMW this season and a shot to record two more wins to tie the most winning sportscar driver in North America."
Jens Klingmann
"Starting off the season with a highlight – the Rolex 24 at Daytona. It feels amazing to be back with Turner Motorsport after one year of abstinence. We set ourselves a clear target to win the GTD class in one of the most iconic races in the world. It's a tough challenge twice around the clock and to finish first you first must finish. The motivation within the #96 crew is extremely high and our BMW M6 GTD is in the best possible condition. I feel like we've got a competitive package together."
Robby Foley
"Really excited for the opportunity to take on the Rolex 24 this weekend. From a very young age I dreamed about competing in this race, one of the biggest in the world. This will be my second Rolex 24 and relative to last year I feel a bit more at ease, but there are still nerves when preparing for an event of this caliber. The team is seasoned and has been preparing day and night to give us the best chance possible. We've got a strong driver lineup, it's a privilege to drive with such talented guys. We'll be pushing hard for 24 hours, trying to stay out of trouble, all to be there at the end when it counts."
Dillon Machavern
"I'd say I'm excited, but I am not sure that does a good enough job explaining how I feel this week. The combination of driver lineup, our BMW, the Turner Motorsport team and of course strategy should allow us to be competitive throughout the entire 24-hour long race. I'm looking to stay concentrated on my part and rely on my solid team mates to bring the rest together and hope we are leading at the end."
Sydney McKee
"I am equally excited and anxious for our IMSA debut at Daytona in only a matter of days. Above all, I'm excited for the chance to compete with such a veteran team in Turner Motorsport, alongside my Dad and my friend and coach, Robby Foley."
Bruce McKee
"We are trying to keep our nerves and our excitement in check as we approach our inaugural IMSA race at Daytona. We are so fortunate to be teamed with Robby Foley and the Turner Motorsport team to guide us on this journey. TMS has provided us with a fantastic car that will fortunately or unfortunately squarely show how we measure as drivers in a highly competitive field."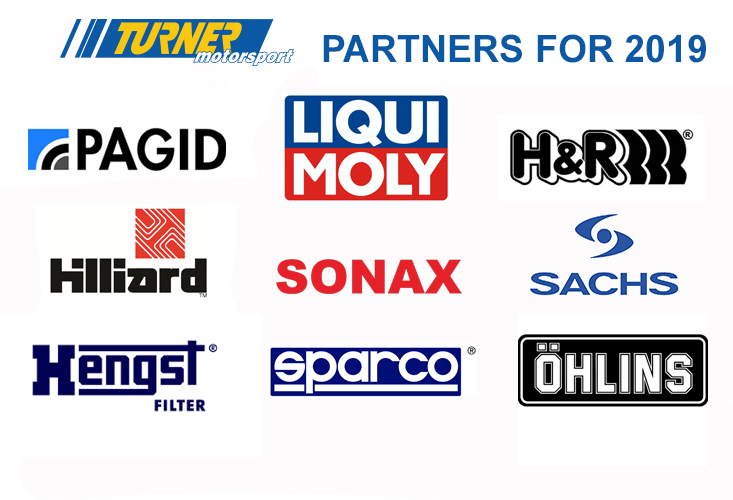 Stay connected. Follow us on Facebook & Twitter to get up to the minute updates from the race track.

About Turner Motorsport

Turner Motorsport is the leading BMW tuner in North America, bringing technology and expertise from the racetrack to the street for over two decades. Since 1993 the Turner Motorsport Team has competed in over 380 professional races, winning seven professional racing championships in four different series since 2003. The most recent being the 2014 Team Championship in the GTD-class of the TUDOR United SportsCar Championship. Their success is passed into every component that Turner Motorsport designs and sells through their comprehensive website and performance showroom. Our Race Team, R&D Engineers and Sales Team work together, ensuring practical knowledge and state-of-the-art engineering flow in both directions. Few companies in North America can claim such a close relationship to what they sell and what they race.

2019 Weathertech SportsCar Championship Schedule
Date

Venue

Classes/Duration

TV

Jan. 4-6

Roar Before The Rolex 24 At Daytona
Daytona International Speedway
Daytona Beach, Florida
DPi/LMP2/GTLM/GTD

3-day test

N/A
Jan. 24-27
Rolex 24 At Daytona
Daytona International Speedway
Daytona Beach, Florida
DPi/LMP2/GTLM/GTD

24 hours

NBCSN
March 13-16
Mobil 1 Twelve Hours of Sebring
Sebring International Raceway
Sebring, Florida
DPi/LMP2/GTLM/GTD

12 hours

NBCSN/CNBC
May 3-5
Mid-Ohio Sports Car Course
Lexington, Ohio
DPi/LMP2/GTLM/GTD

2 hours, 40 minutes

NBCSN
May 31-June 1
Chevrolet Detroit Belle Island Grand Prix
Detroit, Michigan*
DPi/LMP2 (GTD Sprint Cup)

100 minutes

NBCSN
June 28-30
Sahlen's Six Hours of The Glen
Watkins Glen, New York
DPi/LMP2/GTLM/GTD

6 hours

NBCSN
July 5-7
Canadian Tire Motorsport Park
Bowmanville, Ontario, Canada
DPi/LMP2/GTLM/GTD

2 hours, 40 minutes

NBC
July 19-20
Northeast Grand Prix
Lakeville, Connecticut
GTLM/GTD

2 hours, 40 minutes

NBCSN
Aug. 2-4
Road America
Elkhart Lake, Wisconsin
DPi/LMP2/GTLM/GTD

2 hours, 40 minutes

NBCSN
Aug. 23-25
VIRginia International Raceway
Danville, Virginia
GTLM/GTD

2 hours, 40 minutes

NBCSN
Sept. 13-15
WeatherTech Raceway Laguna Seca
Monterey, California
DPi/LMP2/GTLM/GTD

2 hours, 40 minutes

NBC
Oct. 10-12
Petit Le Mans
Braselton, Georgia
DPi/LMP2/GTLM/GTD

10 hours

NBC/NBCSN
---
Links
LIQUI MOLY – A German Lubricant Company and Official lubricant of Turner Motorsport
TurnerMotorsport.com – Parts, Performance & Service Parts for BMWs
TurnerService.com – Service, Performance & Maintenance for BMWs
Sonax – German Car Care Solutions
H&R Springs – Premium Quality Suspension Components
Hengst Filters – Premium Quality Filtration Systems
Sachs Performance – Highest Quality Drivetrain and Suspension Components
PAGID – Motorsport and High Performance Brake Products
1620 Workwear – American Made Workwear and Gear
Weathertech SportsCar Championship Homepage

---
Press Inquires please Contact
Jay Baier
Director of Marketing
email: [email protected]
phone: 978-388-7769 ext. 630